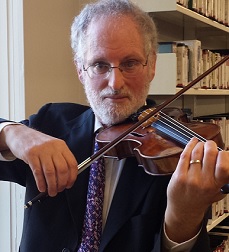 Robert Lawrence, Violinist
provides musical introductions at All Seasons concerts and serves as Co-Director of Programs. He has had a varied performing career ranging from Karl Munchinger's Stuttgart Chamber Orchestra to Frank Loesser's Guys and Dolls on Broadway. He is currently Concertmaster of the New York Gilbert and Sullivan Players, Associate Concertmaster of the Springfield (MA) Symphony, and a member of the Long Island Philharmonic. He has appeared at the Grand Teton, Colorado, Lake George, and Spoleto Festivals. He studied at Yale University and the Accademia Chigiana in Sienna, Italy, and currently teaches private lessons in an after-school program in Westchester County and the Amadeus Conservatory in Chappequa, NY.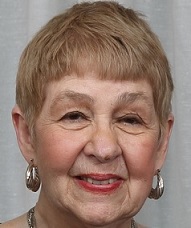 Jean Strickholm, Pianist and Harpsichordist
has served as the Co-Director and Manager of the All Seasons Chamber Players since its founding in 1981. She studied at the Eastman School of Music and Red Fox Music Camp. She graduated Phi Beta Kappa from the University of Rochester and holds an MA in Education from Queens College. Private teachers include Isabelle Sant Ambrogio, Vera Tisheff and her grandfather, Alfred Boeker. She is a frequent performer of chamber music and four-hand music in the metropolitan area. She is cited for music management and other activities in Marquis Who's Who publications from 2007 - 2017 .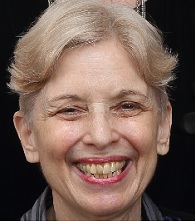 E. Zoe Hassman, Cellist
attended The Curtis Institute of Music and graduated from The Juilliard School. Zoe is one of the most in-demand performing cellists in all genres. She continues to pursue her passion to perform her audience friendly cello recitals to enrich, uplift and make a difference to her listeners. Zoe's interactive, innovative & captivating recitals include "mystery pieces" & often a jazz duo with cello and bass. This coming season, Zoe will perform her creative recitals plus performing as the only cellist in the show "Forest Boy" in Manhattan. She will also tour with legendary jazz bassist Ron Carter to Japan, China, and Hawaii. To know about "All things Zoe", you can call her at 917-414-5906 or email her at ezoecello@gmail.com. For fun, please go to youtube and type "Zoe!solocellist" or "Zoe!solocellist-mystery piece" where video clips should appear from her live cello recitals.

Jaqueline Schiller-Audi, pianist
holds degrees from the Juilliard School and the Mannes College of Music. She has performed extensively as a chamber musician and soloist with several orchestras including the Martinu Philharmonic at Carnegie Hall. She has collaborated with members of the New York Philharmonic in chamber music recitals at Merkin Hall, the New York Public Library for the Performing Arts, and the Roerich Museum. Jackie is a member of the Alacorde Piano Trio which performs throughout the metropolitan tri-state area as well as the Battersby-Schiller Piano Duo. She has recorded a solo CD of piano works as well as a CD of music for two violins and piano with her violinist parents, Allan and the late Elanor Schiller. She lives in Paramus, NJ with her husband and three children and maintains a busy private teaching schedule.

Lisa Hansen, Flutist
The New York Times described her as "irresistibly lyrical". A graduate of The Juilliard School of Music, she was featured in the Emmy award winning CBS documentary "Juilliard and Beyond- a Life in Music". Ms Hansen performed the Nielsen Flute Concerto at Symphony Space in a sold-out concert with the New York Scandia Symphony. Her recording of the Nielsen Flute Concerto for Centaur Records was selected by Fanfare as a Best of the Year Recording. Formerly principal flutist of the Mexico City Philharmonic, she is an avid champion of Latin American and Spanish music. Ms. Hansen performs with the Grammy nominated North / South Consonance Ensemble. She has concertized extensively in the United States, Latin America, and Europe. She is an adjunct Flute Professor at Kean University.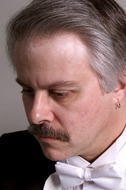 Ron Levy, Associate Artist
pianist and harpsichordist, has been called "first class" by the New York Times. A graduate of Oberlin, Mr. Levy is a founding member of the critically acclaimed Palisades Virtuosi. He has been keyboardist with many orchestras. A champion of new music, he has been the recipient of several works written for him by prominent composers. He has taught at numerous colleges and is currently an instructor at Montclair State University. In 2008, Mr. Levy played in St. Petersburg, Russia and at the venerable Stratford Music Festival (with Palisades Virtuosi). Recordings by Mr. Levy are available on the Albany, Centaur, Eroica, International, MMF and High Point labels. He is also the Music Director of the Unitarian Society of Ridgewood.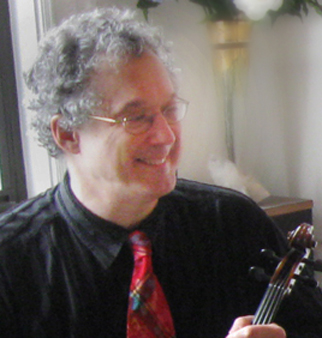 Joel Rudin, Guest Artist, Violist
is a former member of the Laurentian String Quartet which toured the United States, Canada and Asia and can be heard on chamber recordings for the Musical Heritage Society, Soundspells Productions, Newport Classics, and Pierian Records. Mr. Rudin has played with the New York Philharmonic, New Jersey Symphony, and American Symphony as well as on Broadway. He is principal viola of The Symphony of Westchester and the Delaware Valley Philharmonic, and has played principal viola with the Long Island Philharmonic, New Jersey Festival Orchestra, MidAtlantic Opera, New York Grand Opera, Arco Ensemble, and numerous other orchestras. Joel Rudin is a frequent guest of with the Alborada Spanish Dance Theater and Director of its resident chamber ensemble, The Rudin Chamber Players. He was also a member of The New York Five, a mixed chamber ensemble featuring music of the late George Quincy as heard on two albums: Choctaw Nights on Albany Records and Journey of the Red Feather on Cottage Records. He is always active with chamber and new music projects in the New York tri-state area.

Click To Return To Menu
---